New York Office:

1.516.785.6082
12 Columbine Ave., Merrick, NY 11566

Colorado Office:

1.303.665.8862
2339 Lavender Hill Lane, Lafayette, CO 80026
Services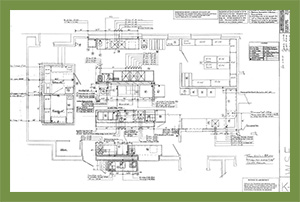 Click the schematic to see a larger view
Design & Planning
We view every client relationship as a partnership. We provide over 60 years of combined experience in our various fields. If you provide an outline of your requirements, together we can design a plan to your specific needs & budget.
Mechanical Connection Drawings
At the conclusion of the preliminary design stage we provide dimensional mechanical rough-in drawings, usually at 1/2" = 1'-0" scale, along with a complete equipment schedule and bookles of manufacturer's specification sheets.
Written Specifications
We provide complete written specifications:
General Specifications
General Conditions
Itemized Specifications
Bid Documents

This unique combination of services provide you with a comprehensive plan and complete specifications to receive competitive bids on the design & equipment that we have worked on together.
Installation
As a rule, we do not hire outside labor to install your kitchen. Full kitchens are delivered, set in position, assembled and leveled, ready for connection by other trade mechanics. This personal service from design to installation is what makes our company different.
Sales of Individual Items
The major factories that we have chosen to represent are listed in the PRODUCTS section of this web site. They have been selected for the following reasons:
Durability
Reliability
Prompt & efficient factory response to problems
Willingness to receive constructive criticism about their products and take positive action
On time shipping
Competitive pricing
While we believe it is important to be competitive we will not sacrifice quality for price.